I am a member of a food bulletin board and this week participated in a Soup Cook-Along. This recipe was chosen by my foodie from Becky. The recipe is from the July 2005 issue of
Super Food Ideas,
the best-selling food magazine in Australia.
Ingredients
1 Tbsp olive oil
1 yellow onion, finely chopped
2 garlic cloves, crushed
2 lbs broccoli, trimmed, cut into small florets
4 cups vegetable stock
2 cups water
1/3 cup pine nuts
kosher salt
freshly ground pepper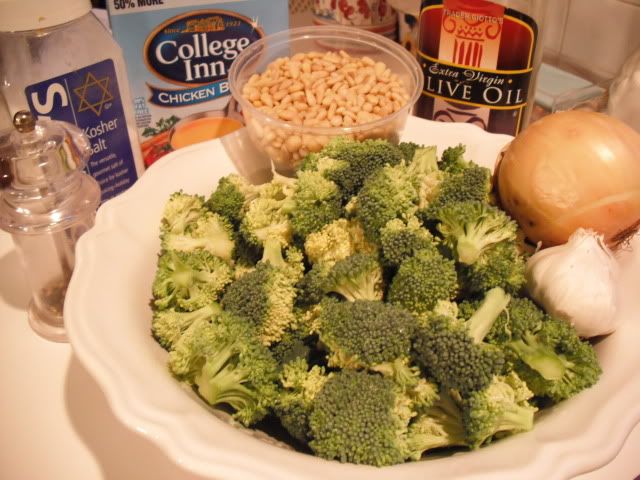 Heat oil in a large soup pot and add onion and garlic. Cook over medium-low heat, stirring for 8 to 10 minutes or until soft. Add the broccoli to the pot, then stir in the stock and water. Cover and bring to the boil. Reduce heat and simmer, covered, for 15 to 20 minutes or until tender. Remove from heat.While the soup is cooking, heat a small frying pan over medium heat. Toast the pine nuts, stirring, until golden. This won't take very long, so be careful not to burn. Stir toasted pine nuts into soup.With a stick blender, food processor or blender, process soup, in batches, until smooth. Return soup to pot and stir. Season to taste with salt and pepper. Heat for about five more minutes or until warmed through. Ladle into bowls and serve. 6 servings.
Pine nuts toasting: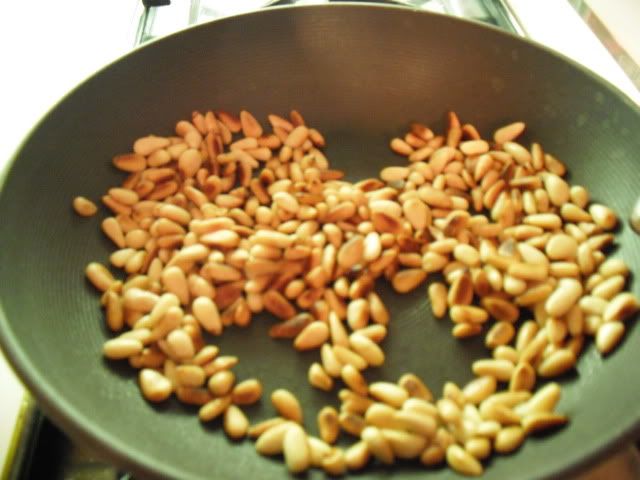 Soup prior to using immersion blender: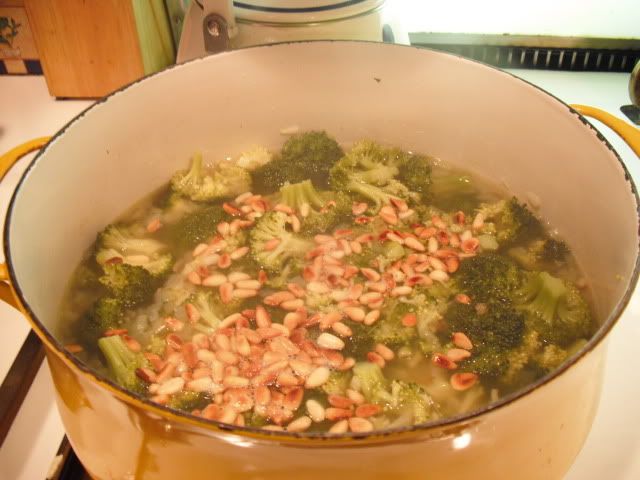 After blending (blend small amounts at a time):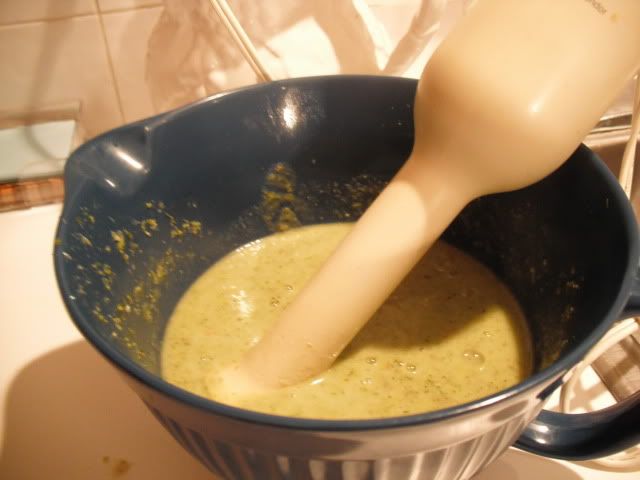 and finally, nice and hot and ready to eat
Notes
I used five cloves of crushed garlic because we
LOVE
the stuff. Also substituted all chicken broth for the vegetable stock and water, so used 6 cups chicken stock. Based on my friend Becky's suggestion I toasted up some additional pine nuts to garnish each soup bowl.